ICYMI: Polar Bulldogs, Christmas Recipes, USDA/NIFA conference, and more
14th Annual Polar Bulldog Swim
Students braved the chilly waters of the Mabee pool to relieve some stress before finals. Check out the video on Facebook.
Seguin Gazette also did a feature on the annual event: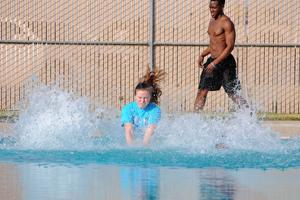 Photo: Derek Kuhn, Seguin Gazette
Although the water wasn't exactly frigid, almost 100 students dared to take the plunge on Thursday during the Polar Bulldog Swim at Texas Lutheran University's Mabee Pool in Seguin...
Holiday recipes from Chef Ernie to make your mouth water: leg of lamb with chimichurri and wild mushroom risotto.
Students in D.C. for USDA/NIFA Meeting
Students Madison Berger (Chemistry) and Sioned Kirkpatrick (Biology, Chemistry) traveled with Dr. Alison Bray (Asst. Professor, Chemistry) to Washington D.C. as part of the USDA National Institute of Food and Agriculture (NIFA) new project managers meeting last week. The students had the opportunity to interact with USDA scientists, tour their lab facilities and take in the amazing sites of Washington D.C.
This trip was part of the USDA NIFA grant recently awarded to TLU supporting agricultural chemistry projects including the rice research currently on-going in the TLU greenhouse.
Follow the progress @tlu_teamrice.
Faculty Staff Run to Support Veterans
Several TLU faculty and staff participated in the November 14 Seguin Dash for Disabled Vets 5K run/walk.
TLU participants from back row left: Steve Boehm, Rick Roberts, Lorne Davis, Robert Jonas, Charla Bailey, Debbie Cottrell, Alicia Olson
Dr. Lorne Davis edges out VPAA Debbie Cottrell
Student receives Award at Valedictory Convocation
TLU student Jayna McGarity was given the Best Essay Award at the Harlaxton Valedictory Convocation. The award was for a British Studies term paper, which was among over 100 entries.
Jayna McGarity (left) with other Harlaxton students

From the Blog & News
Popular & Recent Multimedia